I don't know if that's a Linux related problem or not, but as I'm using my D90 with Linux only I experienced a problem with RAW images (*.nef files). Contrary to the JPEG images of the camera, I'm getting a ~10 pixel wide border on the right when loading it into GIMP, ufraw or digikams editor: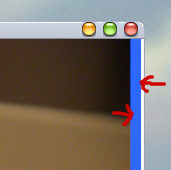 10 pixel border on NEF images
There's no border with JPEGs or when I just display the NEF files in digikam. It's rather annoying and I would appreciate any help, dear lazyweb, to get rid off that border.