Within the last few days, Spiegel Online (German) reported that Google is taking pictures in Berlin for their StreetView service. Today I spotted from my balcony this one: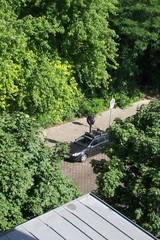 Google StreetView car
Google StreetView car (zoomed)
So, if you these cars driving around it might be a good idea to hide yourself from being photographed and put onto Google StreetView. Yes, I'm no big fan of Google and its giant data collection. I would rather see Google stopping StreetView in Germany to protect peoples privacy.