Well, in the last weeks my UPS battery died somewhat. At least the UPS wanted it to be exchanged against a new one. So I ordered a replacement unit and got the battery replaced. The funny thing is now: apcupsd recognize it as fully loaded, but with no remaining Run Time: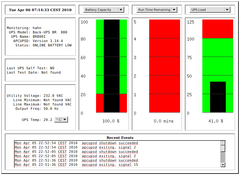 As you can see, it's somewhat strange. During loading the battery, apcupsd showed remaining run times of <2 mins, usually <1 min, sometimes 1.2 min or such. But after a reload of the browser, it was quite often <1 min again. Apcaccess is reporting this (excerpt): [code]DATE : Tue Apr 06 07:21:36 CEST 2010 HOSTNAME : hahn RELEASE : 3.14.4 VERSION : 3.14.4 (18 May 2008) debian UPSNAME : BR800I CABLE : USB Cable MODEL : Back-UPS BR 800 UPSMODE : Stand Alone STARTTIME: Mon Apr 05 22:53:00 CEST 2010 STATUS : ONLINE LOWBATT LINEV : 232.0 Volts LOADPCT : 41.0 Percent Load Capacity BCHARGE : 100.0 Percent TIMELEFT : 0.0 Minutes MBATTCHG : 20 Percent MINTIMEL : 5 Minutes MAXTIME : 0 Seconds OUTPUTV : 230.0 Volts LASTXFER : Automatic or explicit self test SELFTEST : NO STATFLAG : 0x07000048 Status Flag BATTDATE : 2001-09-25 FIRMWARE : 9.o4 .I USB FW:o4 APCMODEL : Back-UPS BR 800[/code] Running a selftest with apctest shows no problem, apparently: [code]Clearing previous self test result...CLEARED Initiating self test...INITIATED Waiting for test to complete...COMPLETED Result of last self test: PASSED [/code] I wonder now how to proceed? Send the battery back? Try a newer version of apcupsd? Contact APC about the issue? Hmmm... UPDATE:
After connecting the UPS to a laptop with Windows und PowerChute software, apcupsd reports >20 mins remaining time as well. Thanks for all hints & tips!